On September 9 and 10 in Frisco, Texas, GAF proudly hosted the first Latinos in Roofing Expo to celebrate and support hardworking Latino professionals in the roofing industry. The two-day event, hosted in Spanish, provided networking and business development opportunities to contractors from all over the United States.
An Opportunity for Networking, Education, and Social Support
The Latinos in Roofing expo kicked off with a welcome reception, where attendees had an opportunity to network and meet other like-minded professionals over dinner and drinks. Roofing Specialist Marcos Sierra from the Sierra Group Roofing & Solar describes the event as "electric, comforting, inspiring, futuristic, and full of great people." Sierra attends a handful of conferences every year and often finds them a little more sales-oriented. This conference flipped the script and provided critical education and useful information that contractors could put into practice without a focus on sales.
"We are tired of being sold to. Most conferences have become sales platforms for the speakers and hosts, while the breakout rooms have become a sales pitch paradise for the ones in charge. This was different. The absolute attention to detail on every aspect did not go unnoticed. It was the smaller details that became the topics of conversation."
Sierra notes that details such as the welcome reception were essential to making an impact. "For many [contractors], this was their first conference, so to be welcomed and treated to dinner while networking with others who look alike and who are going through the same struggle was something the industry needed."
A video message from GAF CEO Jim Schnepper played during the evening, as he welcomed and acknowledged the tireless and tenacious work in the roofing industry. Poignantly, there was also a video about the challenges, perseverance, and successes of an immigrant roofer-a sentiment about creating a firm bond and immediate connection that resonated with every attendee. Sierra describes this moment in particular, saying that the video "brought an emotional connection to many of us that are immigrant roofers and gave a visual for those that have not yet gotten there in their respective journey."
September 10 was a full day at the expo, featuring product demos, training classes, and educational panels. Contractors learned more about educational programs such as GAF CARE courses that make it easier to run and grow their businesses with on-demand learning, hands-on training, and business seminars. They also had the chance to experience various product demonstrations and ask any questions of experts on site.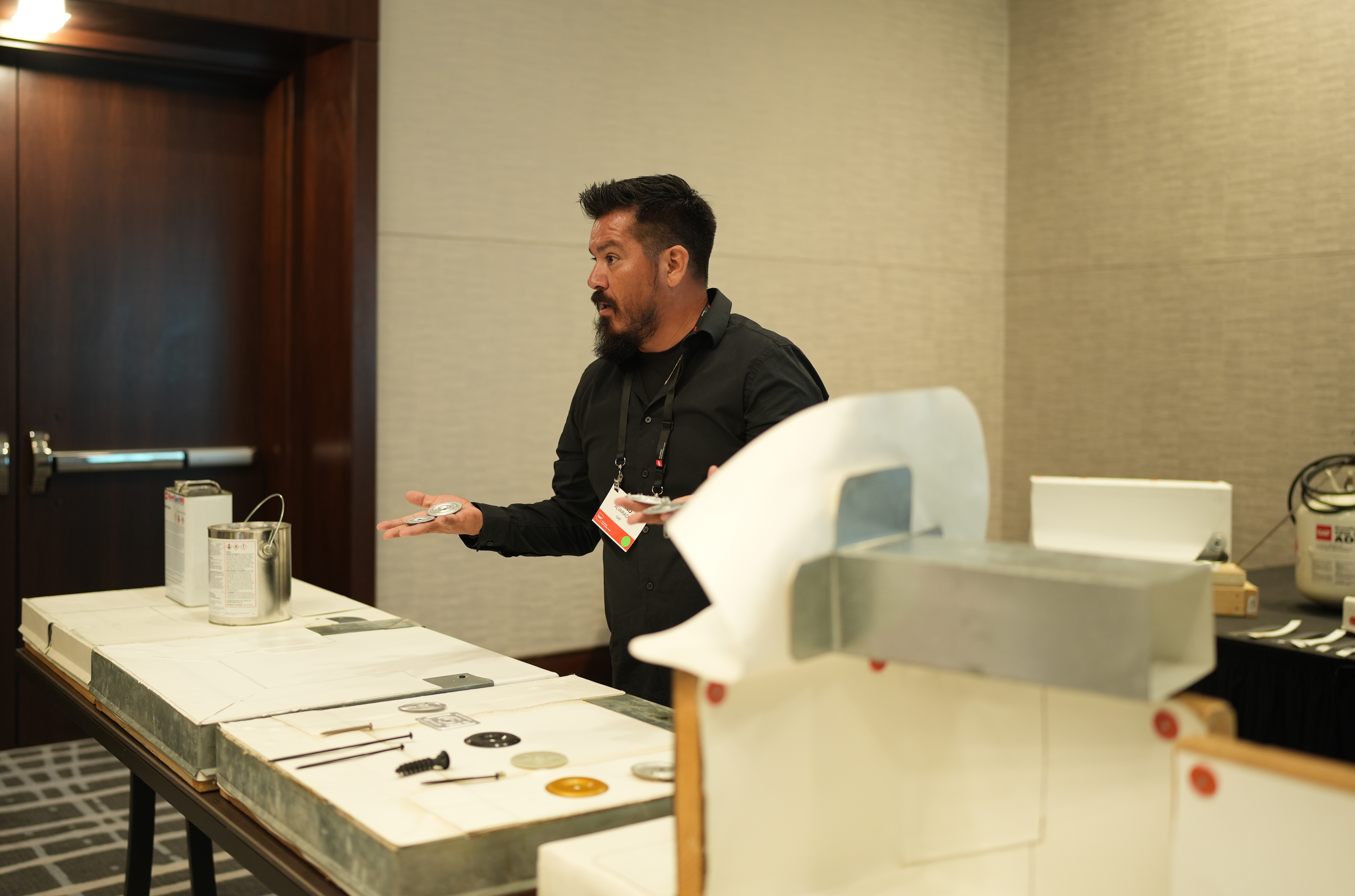 The Expo ended with the opportunity to attend that night's FC Dallas Soccer game, an exciting event that also connected to the Latino and Hispanic Heritage Month celebration happening in Dallas over the weekend.
Shared Experiences and Communal Support for Career Success
Opportunities such as the GAF Latinos in Roofing Expo are pivotal for any contractor who finds empowerment in networking with others from the same culture and industry. Recognizing shared experiences and also learning about how others have struggled and overcome obstacles to success can encourage growth.
Luis Velasquez of Dynamic Restoration, now a GAF Master Elite contractor, describes how he overcame his own obstacles in the industry. He emphasizes the need for perseverance when fighting for big dreams. "Succeeding in the United States as a Latino is possible," he says. "That's what we came here for. We are intelligent, and we came here to succeed. Fear is an obstacle, but it cannot stop us."
The team behind the GAF Latinos in Roofing Expo is proud to provide opportunities for roofers like Sierra and Velasquez as they build a strong foundation through social events, career networking, and practical training for success.
To discuss additional opportunities and trainings for Latinos in roofing, contact your local Territory Manager. You can also access gaf.com in spanish here.