When Bobbi Jones, 26, of Roxbury, MA, and Yeren "Jay" Rivera Cruz, 19, of Jamaica Plain, MA, were chosen from an impressive pool of applicants to join This Old House's team on Season 42's Dorchester project, they also got the chance to learn about the roofing trade from the pros.
Both 2020 graduates of the YouthBuild Boston program—an affiliate of YouthBuild USA, a nonprofit that helps young people pursue their education, prepare for careers, and grow into community leaders—Jones and Rivera Cruz joined Charlie Silva and the This Old House crew for six weeks and took part in GAF's week-long Roofing Academy in New Jersey. There, the two apprentices learned the principles of roofing and how those principles might apply in various career paths.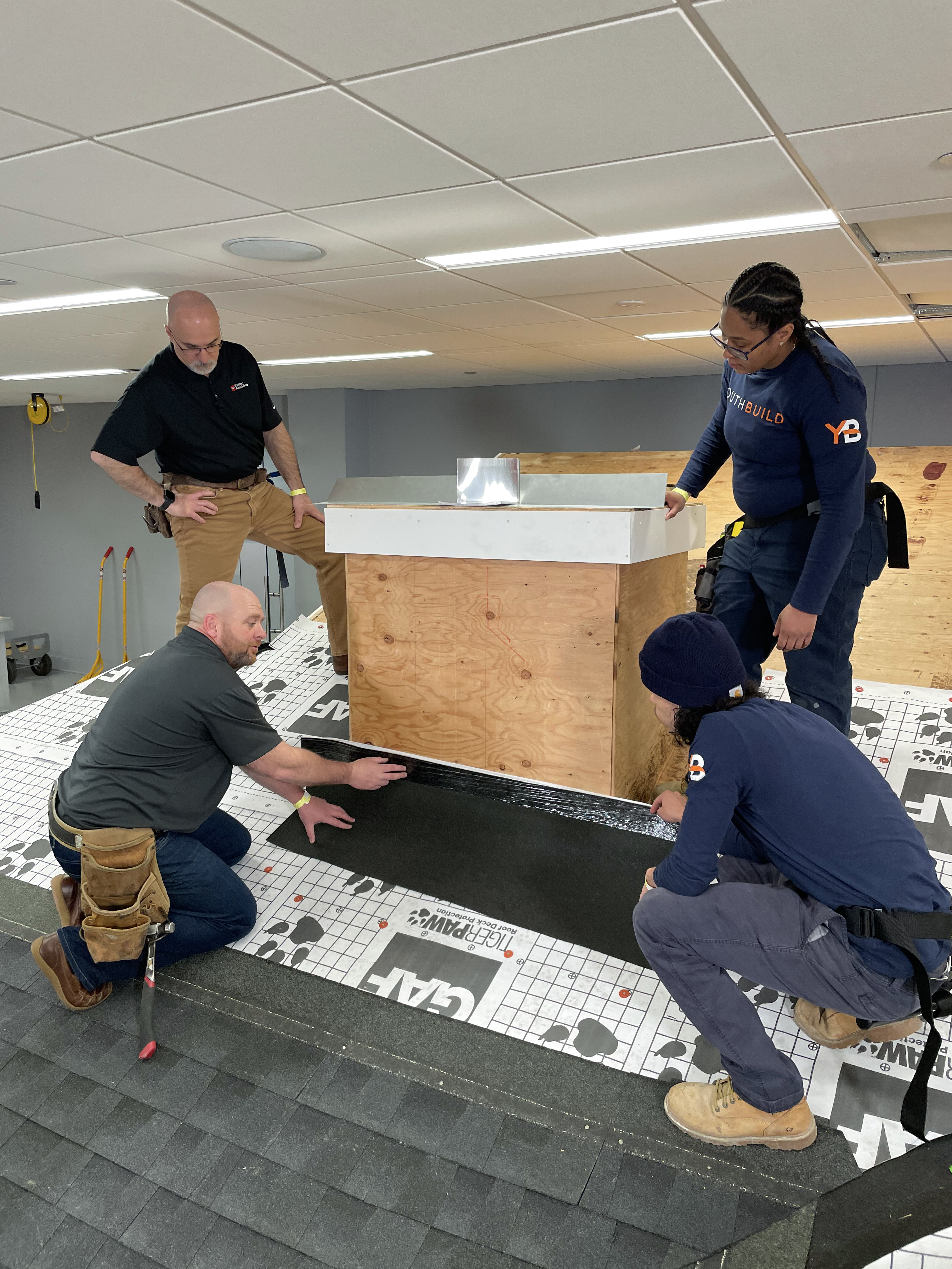 Photo by Kevin O'Connor, This Old House
What is the GAF Roofing Academy?
The GAF Roofing Academy is a tuition-free course designed to teach the skills needed for an entry-level position in roofing through a combination of in-classroom and on-the-roof training. Trainers from CARE (Center for the Advancement of Roofing Excellence) share real-world industry experience with their students, along with the latest technology and tools required to excel on the job. Following the course, students are given access to jobs through GAF's WorkBelt platform, which connects Roofing Academy graduates to the company's national network of certified contractors seeking to hire new talent.
This Old House Apprentices Discuss Their Hands-on Experience
We talked with Jones and Rivera Cruz during their experience and they shared what they learned—from the science behind roofs to the exciting career possibilities in store for them.
What inspired you to learn about the roofing trade?

Rivera Cruz: I want to learn about all the components of a house, and roofing is the basic protection of the house. I've always been curious about it—especially about how to keep water out of a house. There are a lot more factors to it as well, and roofers are the ones who need to figure out how to get air from the outside in and back out through the roof.
Jones: What inspired me was knowing that I want to be a business owner. I felt that if I trained in different fields, I could learn more about what makes up a house and be able to help in different areas.
What has the Roofing Academy training program meant to you?
Rivera Cruz: The knowledge they taught me is what meant the most. It's created a whole new mindset for me. In the training, GAF talked about how installing solar panels on a roof involves both electrical and roofing skills, and it's something I'm thinking about as a potential career.
Jones: This experience showed me that I can do anything I put my mind to. It showed me that even if you think you might not be good at something, or if you're just worried about trying something new, you'll never know till you give it a shot.
What is the most rewarding part of learning about roofing?
Rivera Cruz: It's the knowledge you gain, and understanding how something complicated, like roofing, is supposed to work.
Jones: For me, it was learning more about how the roof is the most important part of a house because it helps stop unwanted things from coming in.
What is the biggest challenge?
Rivera Cruz: I found it hard to learn all of the components of a roof—what everything does and how it works. This was all new to me, so getting used to it was a bit challenging.
Jones: The biggest challenge is knowing your limits to how high you're willing to go, and to remember to have the proper PPE (Personal Protective Equipment) before starting a job.
What was it like to experience hands-on training?
Rivera Cruz: It was fun. The GAF instructors told me that roofing involves 90% setup, meaning that once you have that foundation first, the installation of the roofing materials moves quickly.
Jones: I prefer hands-on training; I feel like I can get better at what I'm doing by actually doing it rather than just sitting in a room taking in a bunch of information.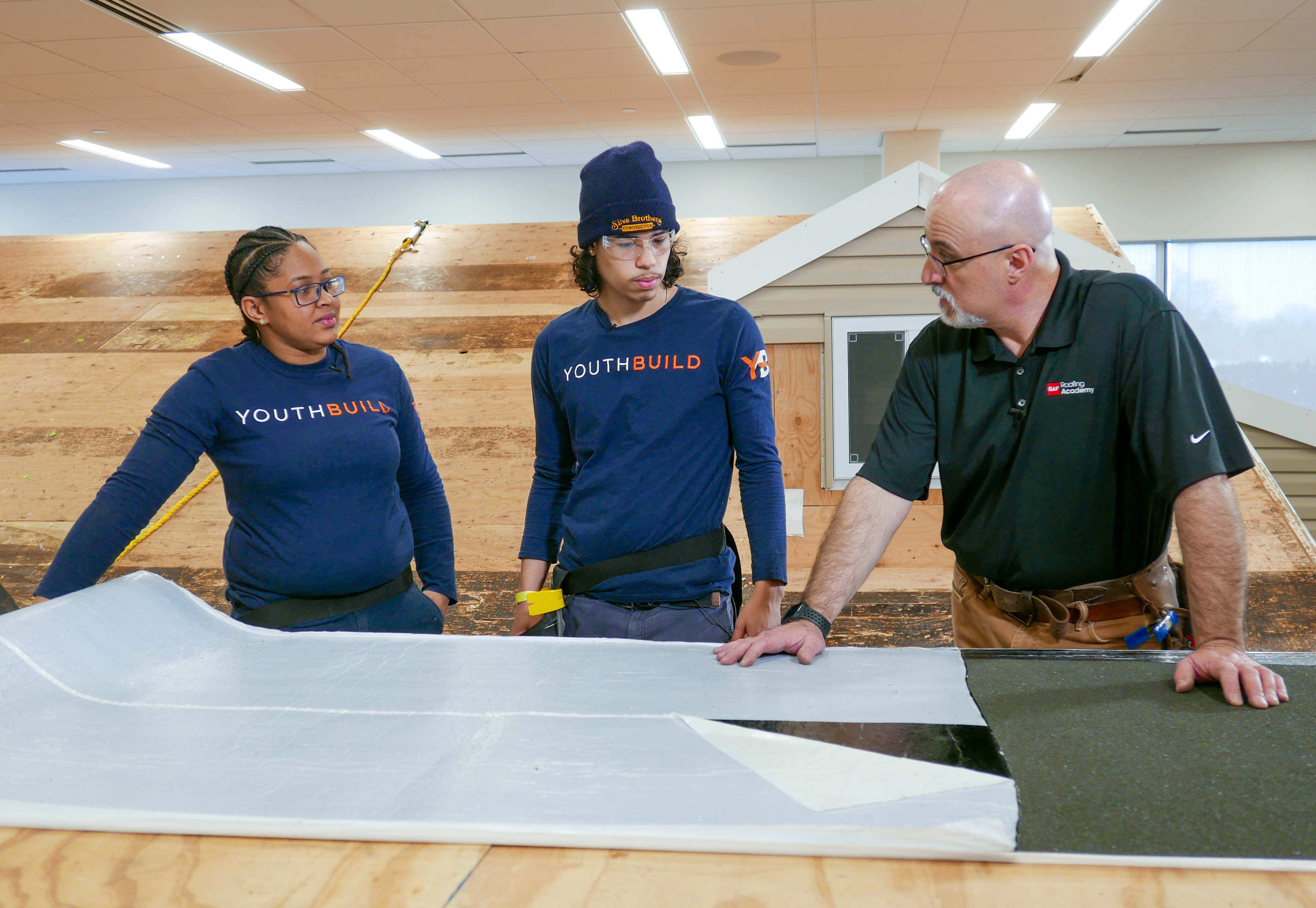 Photo by Kevin O'Connor, This Old House
What do you think about the roofing trade now that you have completed the training?
Rivera Cruz: I'm interested in learning more about what it takes to install solar panel systems on homes, which involves both electrical and roofing skills.
Jones: I came out with a different perspective than I had before. I definitely would recommend looking into roofing even if a person hadn't thought of it before. Once you know what you're doing, it gives you a good feeling inside.
What advice do you have for people considering a career in the roofing industry?
Rivera Cruz: If you're up for a challenge, roofing is definitely the right career for you. It's certainly not easy, and if you feel like you have it, then go for it. You do need to consider safety and learning all of the components and understanding how the system and ventilation work.
Jones: I would tell them not to let fear or doubts get in their way, to go out and do it; it's a great field to get into.
GAF works to protect what matters most—now that you've completed this training, what matters most to you?
Rivera Cruz: My family is what matters most to me. We were born in Puerto Rico—my mom and her five kids. For me to push forward means everything, and I want to set an example for my family that anyone can do it.
Jones: Family is what matters most to me!
You can watch Rivera Cruz and Jones on Season 42 of This Old House, the Dorchester Triple Decker project, now airing on PBS. Check your local listings. For more information about YouthBuild USA, visit YouthBuild.org. To learn more about GAF and the Roofing Academy, visit GAF.com/roofing-academy.