As part of the nation's longstanding tradition of honoring people who have served in the armed forces, a new museum has been built to recognize those who have been awarded the highest military decoration, the Medal of Honor. GAF is proud to be playing a role in the Gainesville Medal of Honor Museum and Education Center in Texas, set to open its doors in 2024.
"The Gainesville Medal of Honor Museum is about honoring the folks that risked their lives for us to be able to live in this free country," notes Drew Daniel, general manager of the GAF commercial plant in Gainesville, Texas.
Celebrating Service Members Past and Present
The museum is a cause for celebration in Gainesville, the once-proclaimed "Most Patriotic Small Town in America." As the country's only Medal of Honor Host City, Gainesville is famous for commemorating the military's highest-awarded heroes. Now, in addition to the city's annual Medal of Honor Week, Medal of Honor Park, and Homegrown Hero Walking Trail, its new museum will honor medal recipients' legacy while educating future generations to come.
Only 3,516 people have received the Medal of Honor since 1863. The tremendous honor is awarded by the president of the United States in Congress' name. By law, only US service members who distinguish themselves "through conspicuous gallantry and intrepidity at the risk of life above and beyond the call of duty" can receive the medal.
"It's amazing how brave and humble and kind these folks are," Daniel says. When Mayor Tommy Moore approached Daniel about GAF donating roofing materials to the museum project, Daniel was excited to get involved. "Being able to give back to these heroes-what a blessing," he adds.
Continuing a Great and Growing Tradition: Medal of Honor Week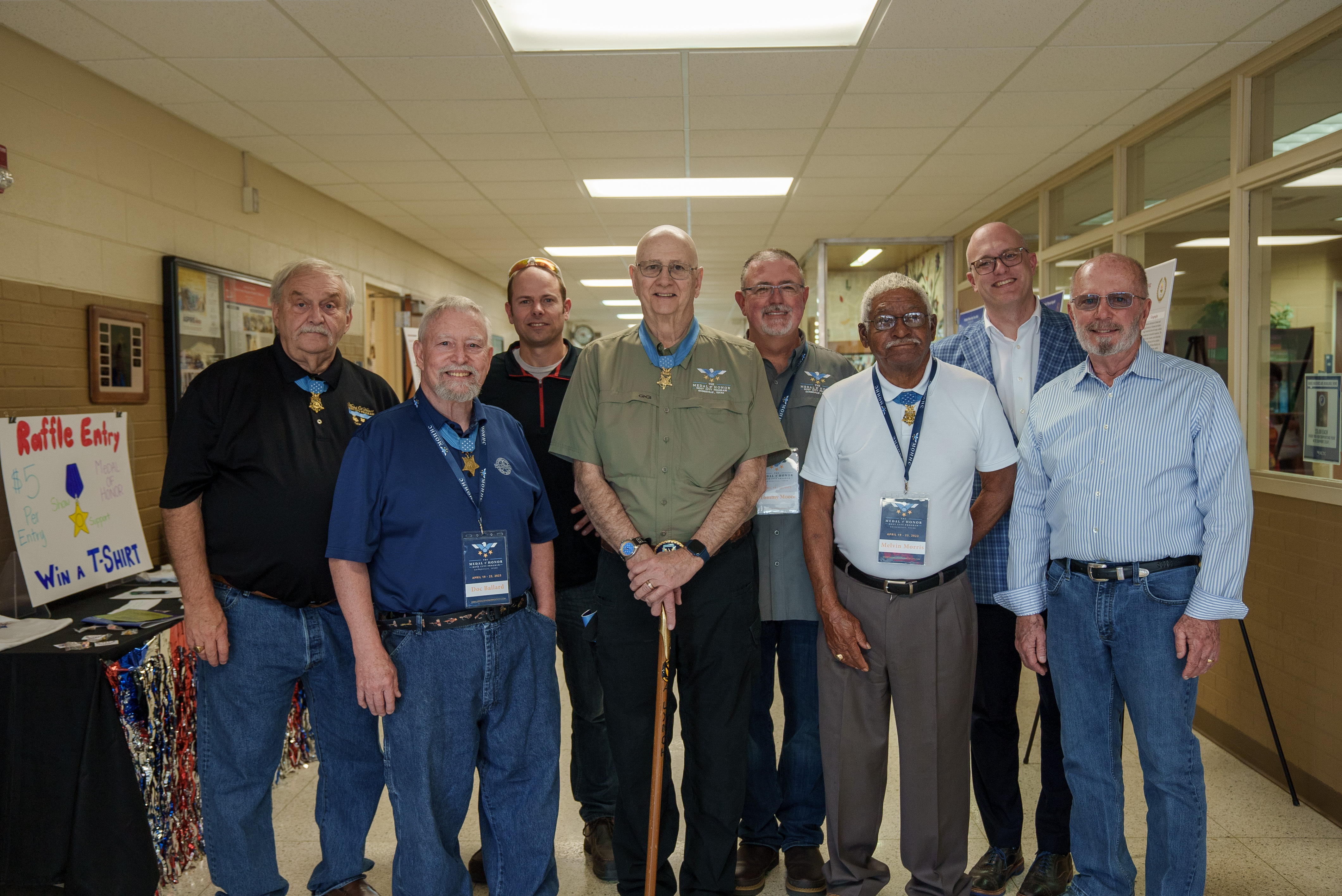 Medal of Honor recipients with GAF Gainesville general manager, Drew Daniel,Mayor of Gainesville, Tommy Moore and NCTC Chancellor Dr. Brent Wallace
Gainesville has proudly hosted 56 of the 62 still-living recipients since becoming the country's annual Medal of Honor Host City in 2001. Each spring, the city flies in medal recipients (and their families) for a week of special commemorative events, starting with a motorcade.
Over 500 motorcycles and multiple police and emergency vehicles escort the luxury RV with recipients into town. "People line the highways welcoming them, and all along the overpasses there are firetrucks and American flags," notes Daniel.
During Medal of Honor Week, there's a tree dedication (recipients who visit have a red oak tree planted on the Homegrown Hero Walking Trail in their honor), a patriot dinner, a parade, a banquet, and a signing of the Medal of Honor Portrait of Valor book. Gainesville has truly made honoring these heroes the city's legacy.
Meeting the Medal of Honor recipients is a highlight of Medal of Honor Week. In 2023, nine recipients visited Gainesville.
"All of them were Vietnam War veterans, around the same age as my dad," Daniel shares. During the week, he had the opportunity to meet four of the medal recipients. Two of them gifted him a commemorative Medal of Honor coin in thanks for the role GAF played in the museum's construction. "Receiving those coins was a big deal for me," Daniel says. "I keep them on my desk."
Partnering to Immortalize Selfless Acts of Courage
The idea for the Gainesville Medal of Honor Museum took root almost five years ago when Mayor Moore put together a grant from the State of Texas, explains Daniel. After some early momentum, the pandemic unfortunately postponed the project. Then, when it was safe to relaunch it, the cost of materials had escalated. Those high material costs threatened the city's ability to carry out the museum vision.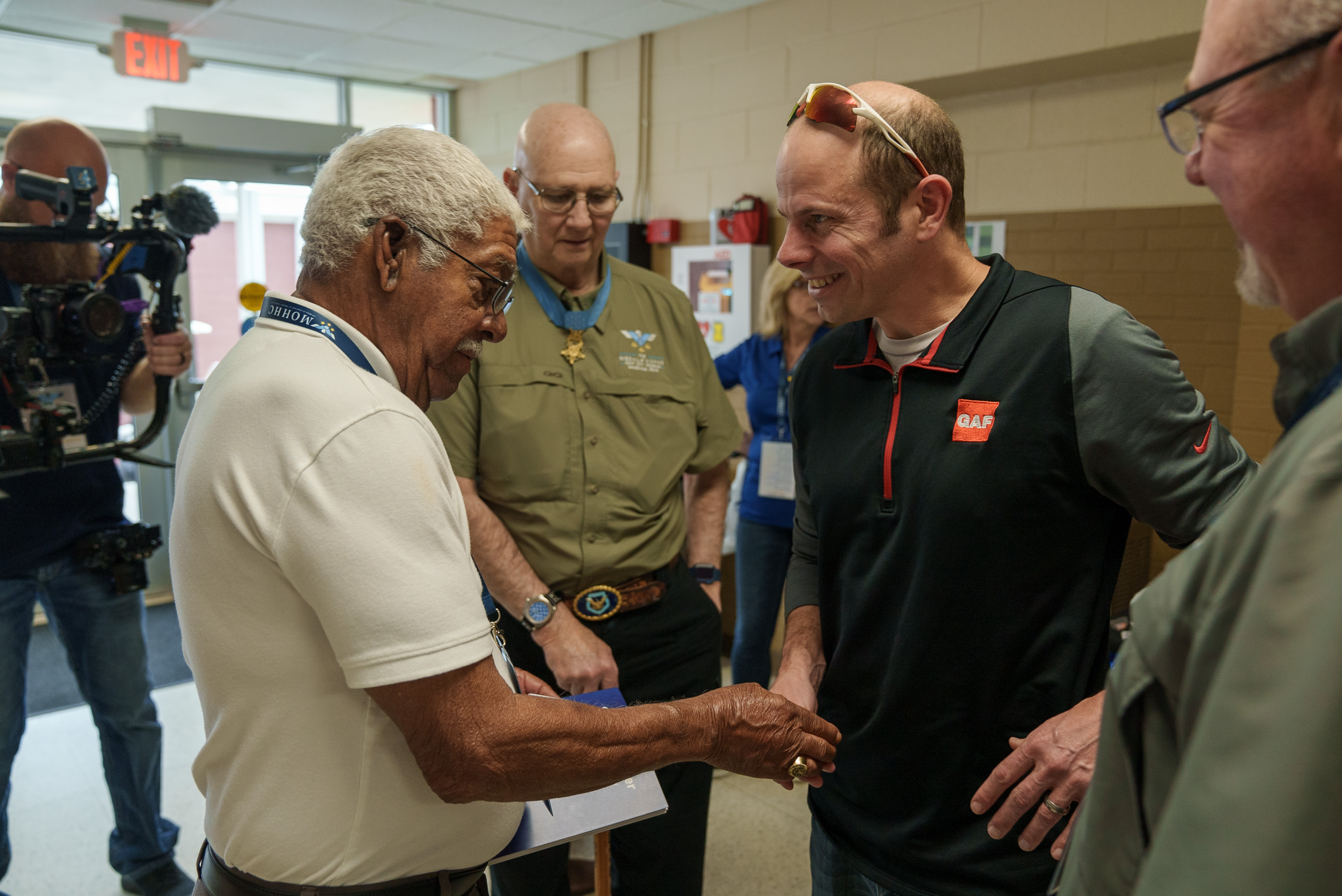 GAF Gainesville general manager thanks Medal of Honor recipients
Mayor Moore approached GAF to propose a partnership. "Tommy told us the story about how important building this museum was to honor the legacy of past and future Medal of Honor recipients," says Daniel. "He told us the story of why it's so important to not let their memory die."
In addition to the important role Gainesville plays in the country, the city is also important to GAF. It's home to one of GAF's commercial roofing plants. "This is a hardworking community," Daniel notes. "Plus, it's really becoming a destination city. There's so much growth and positivity about what's happening here."
For all these reasons, Daniel knew GAF would be honored to be involved. Architecturally, the ~15,000 square-foot museum has many noteworthy features, including locally manufactured roofing materials.
"That whole roofing job shipped from the Gainesville GAF plant to the construction site, two miles away," Daniel explains.
Now, the newly constructed museum stands on land donated by the North Central Texas College and will be open to all. The roof features GAF EverGuard® TPO membranes and GAF EnergyGuard™ Polyiso Insulation manufactured in Gainesville, plus roofing accessories unique to the Gainesville plant.

Standard Logistics trucks loaded with roofing material donated by GAF to the Medal of Honor museum
Providing a Special Space for Remembrance, Appreciation
For generations to come, this Medal of Honor Host City will have a year-round, dedicated space to let its patriotism and gratitude for the nation's military heroes shine. Thanks to Gainesville's patriotic efforts and the brave recipients of the US Medal of Honor, the celebration and shared appreciation are sure to carry on for years.
Curious to learn about other initiatives GAF is involved in? Visit www.gaf.com/manufacturing to learn more about GAF's manufacturing communities, and visit the Community Matters page to learn more about how GAF invests in area communities.