Although the GAF Master Select contractor Aqua Seal Manufacturing and Roofing Inc. has a robust team of 100 employees, the workload in the Columbia, South Carolina, metro area always has them looking for more help. As one of the top commercial roofing contractors in their market, they do everything from new construction to reroofing—and their leak detection skills have kept them in high demand for years.
Aqua Seal COO Mills Snell heads up recruiting efforts and says it can be a challenge to find strong candidates. "There's truly not that many experienced roofers out there. And if they are out there, they're not in the job market."
Hosting a Roofing Academy Training
When Snell learned about the GAF Roofing Academy, he knew he could change his recruiting approach to make finding team members easier. Rather than hiring only experienced roofers, he worked on expanding Aqua Seal's recruitment efforts to those who were eager to learn the ins and outs of the trade and who were willing to apply themselves by working hard.
Snell worked with the GAF Roofing Academy to provide an intensive five-day training in spring 2021 designed to teach students roofing skills. The first class of 20 students fully completed the training within a week-afterward, 15 students were interviewed and four ended up getting hired. Snell was impressed with the training and the knowledge that the students took away from the week.
"It subsidizes our onboarding process," says Snell. "We typically do a lot of on-the-job training and hope that they learn quickly. The students that went through the Roofing Academy learned as much in five days as they would after spending six months in the field. My foremen are fighting over who gets these new hires on their crews."
He worked with GAF to help refine the pool of students coming through the training program in his market, ultimately hosting a second Roofing Academy training week. Snell even recruited his own student after encountering great service while picking up a curbside order at a local store.
"I gave him my card and invited him to the Roofing Academy. He was one of the top guys in the class, and he's been a very good employee," says Snell.
Four students completed the second Roofing Academy week, and the company hired three of those graduates. Plans are in place to host a third training this winter.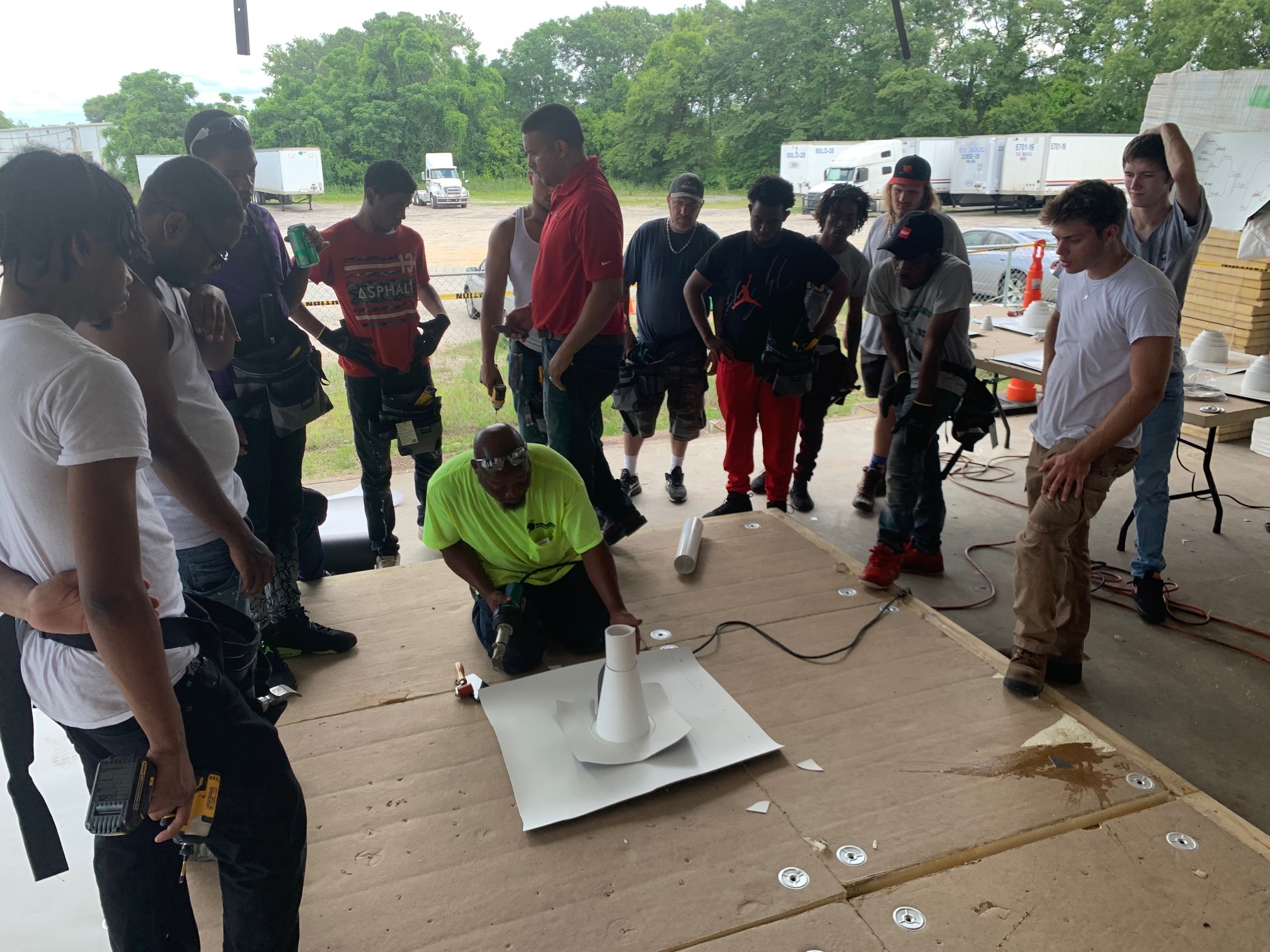 Helping Graduates Succeed
Once a student completes the Roofing Academy training and gets hired, they are plugged into what Snell refers to as a very transparent framework. The GAF Roofing Academy graduates hired by Snell's team have a clear understanding of how ongoing training and wage progression will fit into their career at Aqua Seal.
Snell said that Aqua Seal has also recently become registered by the US Department of Labor to provide apprenticeships for commercial roofing, which adds to the benefits the company can offer to the academy graduates.
"We can provide $2,500 per apprentice in scholarships to attend our technical college network in the state," he says. "We've partnered with the schools to be able to offer continuing education classes like forklift certification, OSHA 10, and OSHA 30 at no cost to the employee."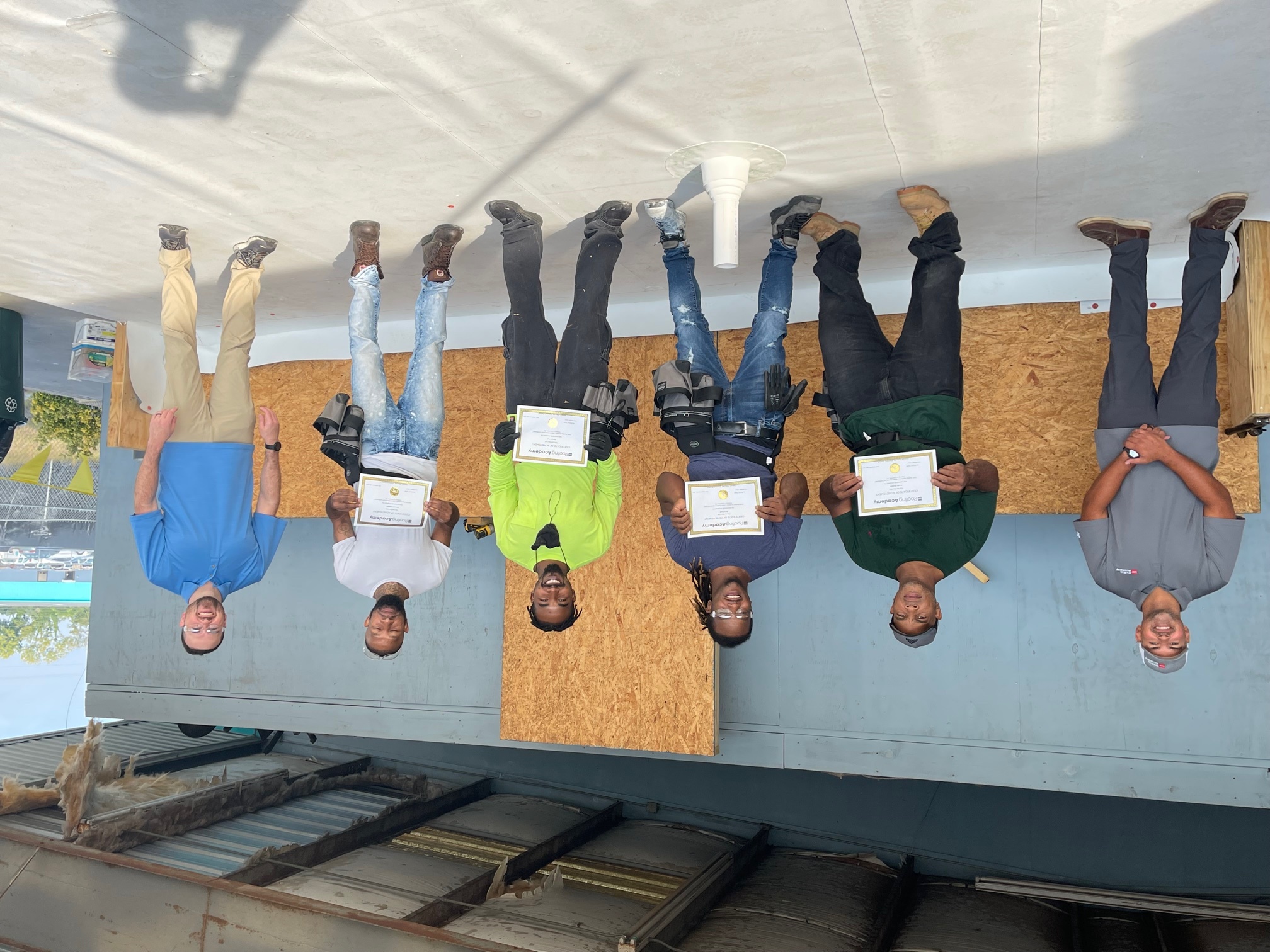 Using WorkBelt as a Recruiting Tool
GAF is committed to addressing the labor shortages in the roofing industry by giving contractors tools to help them train and recruit workers. In addition to the Roofing Academy program, the company is also focused on connecting current and prospective roofing workers with GAF-certified contractors* who are hiring through GAF WorkBelt powered by Labor Central.
Roofers can create a custom WorkBelt profile for free to highlight their unique qualifications and complete GAF online learning courses, which will display on the profile upon completion. GAF-certified contractors who are looking for workers can access the platform after logging in to their Certified Contractor Zone account and selecting the GAF WorkBelt tab.
Snell says that Aqua Seal has yet to use WorkBelt since it began hiring through the Roofing Academy—however, the team notes the platform's potential to help move the company forward in its recruiting efforts.
Ready to host your own GAF Roofing Academy program and hire expertly trained workers? Get started by learning more about the GAF Roofing Academy.
*Contractors enrolled in GAF certification programs are not employees or agents of GAF, and GAF does not control or otherwise supervise these independent businesses. Contractors may receive benefits, such as loyalty rewards points and discounts on marketing tools from GAF for participating in the program and offering GAF enhanced warranties, which require the use of a minimum amount of GAF products.